This is my first post in nearly four months - it almost feels like confession: 'Forgive me, for I am injured, it's been four months since my last post... ..'
So let me get caught up on what's been going on since I completed my 12 marathon challenge. The glow of setting a personal best at Hartford lingered for a long time, and it was a great feeling. The champagne was sweet, and I do know how to celebrate.
However I did sustain what I thought was a stress fracture just below my 1st metatarsal of my right foot, right beside/underneath the ball of my right foot. It swelled up after the race, and had some bruising/discoloration so I took some much needed time off from running and Taekwondo to rest. A logical step. It's one thing to run a lot of miles over the course of a year, but the stress of running twelve marathons at race pace is another. Not much you can do - rest was the best medicine.
Meanwhile, I have been searching for a new challenge - and that has come in the form of Ironman. I was too late to register for Ironman Mont Tremblant over the summer, so set my sights on Ironman Florida - but that sold out in 14 minutes. So the only other two Ironman options remaining were Ironman Arizona the Sunday before Thanksgiving, and Ironman Cozumel, the Sunday following Thanksgiving.
Registration opened at 1:00pm CST the Monday following the race, and with my American Express in one hand and the mouse in the other I was fortunate enough to get into Ironman Arizona, which will be held in Tempe on Sunday, November 18th 2012. It sold out in TEN minutes, an Ironman record. The climate and flat racing course is a draw for many first time triathletes such as myself, and consider myself lucky to have secured a coveted spot in the race.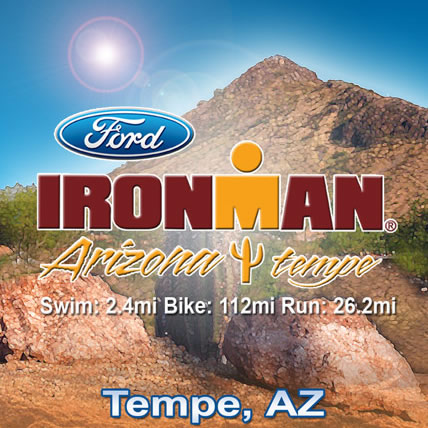 As I have mentioned in previous posts, Ironman presents a massive challenge for me. Not a particularly strong swimmer and a newbie to the bike, I would have to learn two new disciplines and be able to complete some serious distances - 2.4 miles in Tempe Town Lake, and 112 miles in the saddle. I've run enough to have complete confidence in my ability to grind out a marathon even in the worst possible situations, so that gives me reason that I can do this and finish in a respectable time.
Multisport in many ways is what golf was a generation ago. What motivated people do in their spare time, it is a competitive outlet for the individual who wants to keep their bodies in peak condition. We recently rescued a cat from an animal shelter and took him to the Vet - turns out he ran in the Smuttynose Marathon as well (in the torrential rain, no less) and over the course of our conversation realized that we passed each other multiple times along the way, and finished a 26.2 race a mere :45 seconds apart. He finished Ironman Cozumel last year, and is doing IMAZ as well! Small world. Not to mention my daughter's soccer coach started running marathons in his 20's, and did 16 states on his quest to run all 50 - until he caught the Ironman bug. He did Lake Placid the past two years, and is doing the inaugural NYC Ironman this August.
So I took about six full weeks off from running and Taekwondo - something I didn't want to do, but thought was prudent. When I started up again, I started feeling pain again after about logging 40 miles over maybe six runs. At Taekwondo I could feel it not only when I would strike a target - be it a heavybag or an opponent's Hogu or chest protector - but just during the simple act of bouncing on the balls of my feet during basic drills.
So I gave myself another six weeks - even push ups/planks/Vinyasa yoga was out since I couldn't flex my foot.
That pushed me into the second week of January, when I began Ironman training. I've got a certified USAT coach, and she's a good one. A New Zealand native, she crushed Ironman Arizona in 11:19 last November, and had transition times that rivaled the pros. Multisport is right up there with rugby in New Zealand, and in conversations with her it was quite evident she knew all three disciplines inside and out. I had her devise a training plan for me, and having someone be able to offer in depth recon of the course come raceday, not to mention raceday nutrition, is a good decision indeed.
I alternated between pool work, spin and some light trail running because we've barely had any snow here in Maine and the softer terrain would be a better surface to run on.
As I ramped up the miles, I did a 12 mile run (a route that I've done 100 times before) and three days later the pain in my right foot returned.
This time, I decided to see an orthopedist and then a podiatrist. Two visits and ten X-rays later, I know the deal - and it's not good. We all have small bones in our feet called Sesamoids, about the size of jelly beans - and not only did I fracture the one on my right foot, a cyst developed and cut off the blood flow to the Sesamoids. They are attatched by ligaments and tendons, not to other bones, and they are a fulcrum to the big toe. They became irritated, inflamed - and very painful.
The condition only worsened, and the pain was unbearable. I have run enough marathons and can both tolerate and compartmentalize pain fairly well - but this was ridiculous. It took a week for the pain to subside, and am now in a boot for six weeks.
We are going to wait and see how it does by keeping weight off-loaded and the foot immobilized and reducing the amount of pressure on it - but often times this is an injury that either requires frequent cortisone injections or most likely surgery to remove the Sesamoid bones altogether as the 'floating' bone is cut off and continues to calcify and die without proper blood flow.
I found a bit of humor in this injury when I discovered that while not terribly common to runners, it is something that happens to ballet dancers, baseball catchers - and Thoroughbred horses. Just ask 'Always a Princess', trained by legendary Bob Baffert who sustained a Sesamoid fracture during the 1 1/8 mile Santa Margarita. (She's already had surgery and is recovering just fine.)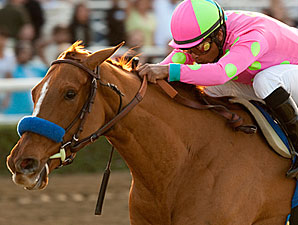 The good news is that I am expected to fully recover from this sort of injury as well - and will be able to return to endurance running and Ironman training in due course, but will need to be patient. I can continue to swim, and will start spin as soon as the swelling has completely dissipated.
It is almost as if my body is telling me 'Less running, do other things'. Always, always listen to your body.
And I remember a great quote from Bob Harper, the famed Biggest Loser trainer when one of the contestants had a crisis of confidence breakdown of epic proportions during a kettleball workout - he said "Go ahead and have your pity party and feel sorry for yourself because the only one who will be at that party is you."
Very well said. So I will swim my laps, crank on the bike trainer, and approach this challenge as an opportunity to improve those two disciplines. I will sorely miss Taekwondo, however. My quest for black belt will have to wait that much longer - but I will get there.
Mrs. 12 Marathons has seen how much pain I've been in lately and asked me point blank - "Why do you want to do an Ironman? Why do you want to put your body through that much agony?"
I didn't have a simple answer. Couldn't find one, other than I need to. I've been thinking about her question for a week now.
I need to cross the finish line. I have left so many other things in my life unfinished. I am a finisher now.
I need to hear Mike Reilly say: "DAVID COSTANTINI, YOU ARE AN IRONMAN!"