When I first had the idea to run 12 marathons in 12 months, I did not know what to expect.
Could I do it?
Should I do it?
How much is our insurance deductible? (Ooof, a lot.)
Are my race entry fees refundable? (Nope.)
Have other people done this before? (A few. Not many, though.)
It is a substantial undertaking. The logistics of finding 12 races, then traveling to them (often with two children in tow), making sure my body remains conditioned to handle the pounding, allowing ample time to recover, and of course staying healthy through it all - but in the end the decision was simple. Life is so short. Live without regret.
So with that in mind, I went for it. With my family behind me 100%, I set out on this bold venture. And sometimes it all just works out... ... ... ... beautifully.
I had two weeks to rest (and dry out) after race #11, the Smuttynose Rockfest Marathon here in nearby Hampton Beach, NH. It poured something fierce that morning, and my 3:45 finish time was my 2nd fastest time since my challenge began. Hartford would be my 3rd marathon in four weeks, and as I've mentioned before, I was thinking that it simply might end up being a 'Champagne stage' run - in 'Tour de France' jargon, that means the outcome has already been decided and I would cruise to the finish, not exert myself too much, and celebrate the accomplishment.
But you don't run 11 marathons without the ability - and desire - to push yourself. Shutting off the 'competitive valve' is a very difficult thing to do.
And when I say competitive, I mean against myself. Every training run, every race, I have a goal pace, and a finish time, in mind. Even if I don't hit those goal times, I gauge myself by a different measure - effort.
So the day after Smuttynose, I felt fantastic. Unusually good for someone who ran two 26.2 races just seven days apart, especially because Clarence DeMar was hot and hilly and Smuttynose was run at a fast (for me) tempo. I kept going to Taekwondo to keep my cardio up and to clear my mind, which it always does, and did three runs following Smuttynose - a 7, a 9, and a 5 miler. All averaged a very steady, and comfortable, 7:30 pace. I felt ready.
The 12 marathon family drove down on Friday afternoon, and had dinner with a childhood friend who I've known since 4th grade. (In fact we ran track together my senior year in high school - I was the 3rd leg on the 4x400m relay team). They live a few miles outside downtown Hartford, so I crashed there Friday evening and he got me to the XL Center in plenty of time to pick up my bib. (Thanks again, G!)
I have to say, the ING Hartford Marathon is a first class event. I liked everything about it. It's a midsize race with a very big time feel. This was my third ING sponsored race - NYC is, well, NYC, but they also sponsored Miami, and that was great as well.
Once getting my bib, I walked through Bushnell Park to the start line, stretched a bit, and found a spot in the corral. I had met the pace director for Hartford Marathon at the start of the Clarence DeMar Marathon several weeks earlier, and told him I was hoping to run a 3:40 at Hartford. He told me who the pacer would be, but after my 3:58 finish, and with Smuttynose a week away, I saw him again at the finish and shook my head - Not so sure about a 3:40 after this, I said. But we'll see.
Encouraged by my Smuttynose finish and subsequent training runs, I sought out the 3:40 pacer and stood in his general vicinity.
I remembered that when Dean Karnazes ran 50 marathons in 50 states in 50 days, his last race was the NYC Marathon. He ran it in 3:00:30, his fastest time of all 50 races. I would try to run my fastest time as well.

Let's empty the tank, I told myself as the pre-race adrenaline began to flow. Conditions were perfect - upper 50's, sunshine, very little wind but that would pick up later in the race. I wore a thin pair of Smartwool gloves, my Adidas top that is a bit too big now (I like it because it reminds me of the New Zealand All-Blacks rugby jersey) and gray Nike shorts, with Zenzah calf compression sleeves and of course my NB 890's.
The gun went off at 8:00am, and we were off. There were a lot of half marathoners in this race, splitting off onto a different course a few miles in. I ran my first mile through the downtown streets at a 5k-like 6:48 clip. Fastest mile split time I've ever had in a 26.2 race. That was either a very good thing - - or a very bad thing.
Mile 2 7:09, Mile 3 7:22 Mile 4 7:35 Mile 5 7:24. I was running at a nice brisk but controlled pace, reminiscent of my last few training runs. We ran parallel to the Connecticut River through Riverside Park, crowd support was surprisingly strong. I was striving for consistent mile splits, as my goal was to maintain a steady, even tempo.
Mile 6 7:23 I rounded a corner and saw my wife, Dad, and sisters. That was a very uplifting moment. I tossed them my gloves, as I was sufficiently warmed up. Twenty more to go!
Mile 7 7:34, Mile 8 7:46, Mile 9 7:50 Mile 9 included a small hill, and got it back to 7:40 for Mile 10. Mile 11 was also 7:40, and was very pleased with how the race was playing out. Mile 12 was 7:58, and now the time goal was to keep all splits under 8:00 for as long as possible.
Mile 13 7:55. My 13.1 time: 1:40:30, or 7:44 mile average. I was stoked with that split.
Mile 14 7:43 We were on an out-and-back stretch of the course, and as I crossed the Mile 14 mark the race leader zipped past me at the Mile 20 mark. So even if I was spotted a six mile lead, I'd still get passed like I was standing still!
Mile 15 7:59 I would check my Garmin each mile, usually with less than 1/10th to go, and push to make sure I kept it below 8:00. That was the mental game I was playing to keep sharp. Also I was in a pack with 10-15 other runners who were all maintaining the same pace I was. This is why I enjoy larger races as opposed to smaller ones - the field tends to push me, and I find I stay motivated while running in a pack as I want to keep up stride for stride. I always try to run my own race, but group running can really help the intensity level when you might begin to fade otherwise.
Mile 16 8:00 exactly. I was talking to the runner beside me and missed by one second, and that really bothered me. Running is psychological, and there is a difference between seeing 7:59 and 8:00 on the Garmin.
Mile 17 8:21, and we hit the turnaround point on the out-and-back. 9 more miles, and I began to think about finish times, and what was possible. I didn't want to get too excited, but a Personal best was looking very realistic. I kept on thinking about how great it would feel to P.R. my final race, to knock one out of the park in the bottom of the 12th inning... ... ... I wanted a walk-off P.R!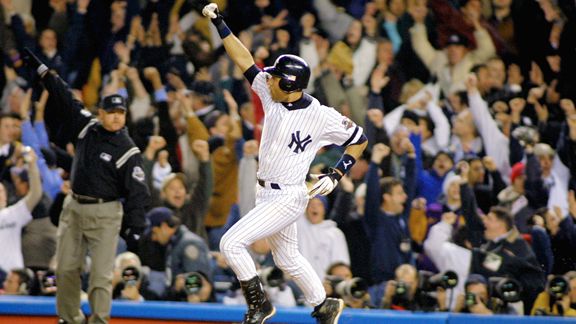 Mile 18 8:03 Back near 8:00, running hard and very proud of that split!
Mile 19 8:24 The pack I was running in began to break up - about three runners kept the 8:00 pace, three including myself ran side by side in the mid-8's, and the rest fell back.
Mile 20 8:51 I was beginning to feel it, but wouldn't say I hit the wall. My time thus far was 2:37:29, or 7:53 pace. 6.2 to go! Hell, if ran this at 10:00 pace I would break my Sugarloaf P.R. of 3:39:19 so I kept pushing. Hard. I remember thinking at this point that if I finished up my 12 marathon challenge and ran a 3:40 I would be disappointed, because I let a P.R. opportunity slip away. Be relentless, I kept thinking.
Mile 21 8:56 Instead of trying to run sub-8's, it became run sub-9's.
Mile 22 8:52 I began to notice the headwind - it picked up considerably. Though not much of a Floyd Mayweather boxing fan, I kept remembering his training mantra as he prepared to take on Victor Ortiz: Hard work. Dedication. Hard work. Dedication. Hard work. Dedication... ..I repeated those words when the fatigue started to set in, that helped get me through the pain.
Mile 23 8:56 A 5k to go! Also the pacer passed me. The 3:30 Pacer! I would set a P.R. for sure, just keep grinding!
Mile 24 9:06 Mile 25 9:09 Mile 26 9:17 Those last three miles were windy as hell!
As soon as I saw the Soldier and Sailor Arch that marked the finish in Bushnell Park I turned on the jets for one final push - the clock read 3:33... ... I finished in 3:33:47, an 8:09 marathon pace and a P.R. by 5:32 minutes!
I received my medal, gave it a kiss, and then saw my family - hugs all around.
We uncorked a bottle of champagne and toasted to a year of sacrifice, dedication, and a vision realized. I thought of the last line of that Sinatra song: It poured sweet and clear... .. it was a very good year.
Five days later, and it is still hard to articulate how I feel... .it goes beyond pride... .a deep satisfaction in completing something so difficult, and to end it all by shattering my old marathon time. I genuinely feel rewarded for my effort, content that I've accomplished something that would have been completely inconceivable a few years earlier. What an amazing, extraordinary experience.
I burned through six pairs of running shoes (Three New Balance, Two Brooks, and a pair of Montrail trail shoes) with a total of 1,391 training and racing miles since October 2, 2010.
Ironically, 1,391 miles is roughly the distance from Kittery, ME to Panama City Beach, FL. Why is that relevant?
Because that will be where I take on my next challenge - to swim 2.4 miles, bike 112 miles, and run 26.2 miles at Ironman Florida November 6th, 2012. I missed the cutoff for entry into Ironman Mont Tremblant in Quebec, so Florida it is. The Gulf chop will make for a challenging swim, but it is a flat course for both the bike and run. The goal is to earn the title Ironman.
I've run 26.2 in nine states during this 12 month challenge, and as two longer-term goals, I would also like to run one in all 50 states, as well as continue to work towards earning my black belt in Taekwondo.
Running a 3:33:47 also made me think about eventually qualifying for the Boston Marathon. With the tightened BAA standards I need to run a 3:15 in the 40-44 age group - when I turn 45 it will be a 3:20. Can I shave off 13:47 over the next four years? A little over :30 seconds per mile? I dare to say that I can, but still have an incredible amount of very hard work to do before I can realistically make a run at it. Hard work, dedication. Hard work, dedication. Hard work, dedication... ... ..
Also, I've received a number of questions relating to my training, nutrition, favorite races - so I will address all of those in my next post.
A massive thank you goes out to so, so many - especially to those of you who take the time to read this blog - but most importantly, to my wife 'Mrs. 12 Marathons'. (I know that name cracks her up.) Couldn't have done this without her incredible support and understanding. She made this possible.
Once again, thank you!